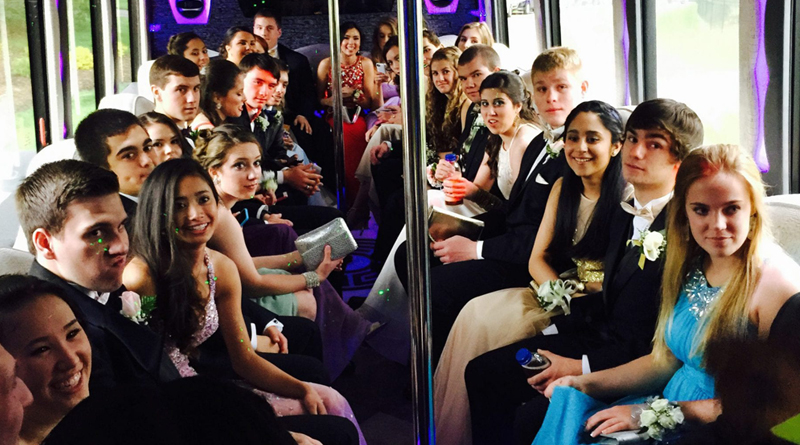 Graduating from school or college is an achievement and deserves a fantastic celebration! It is a significant milestone showcasing all the hard work and effort you've put into academics. At Crown Las Vegas, we want to help you make your graduation day extra special by offering our luxury party buses.
Graduation Party Bus Rental
A graduation is a once-in-a-lifetime event. So, whether finishing high school or college, you should celebrate it in style. You can rent one of our party buses for your graduation ceremony and the after-party.
You'll want to capture these precious moments with your friends. So, we can arrange photo opportunities at some cool spots in the city. If you wish, we can even arrange for a professional photographer. All our party buses come with several cool features like a high-bass music system, a dance floor, disco lights, plush leather seats, a mini-fridge, an LED screen, and even a restroom.
You'll also have the utmost privacy because our party buses have tinted windows. Also, the driver's section is separate from the main area. That means your post-graduation celebration won't be interrupted! No one will be left out as our big party buses can fit up to 50 people. The best part of these buses is their affordability, which makes group travel a fun, safe, and budget-friendly way to get around.
You can choose a theme to make your graduation party even more fun. We'll decorate the bus accordingly. We can even arrange some snacks if you'd like. This graduation celebration will create memories for a lifetime.
Crown Las Vegas has been in the limo industry for over a decade. We have a variety of luxury buses to accommodate your group size. Moreover, our party buses are the most affordable in the entire city. If you have any questions or concerns, feel free to contact us. We're here to make your graduation day unforgettable!
========================
BOOKING IS OVER A CALL AWAY – 702-861-0006