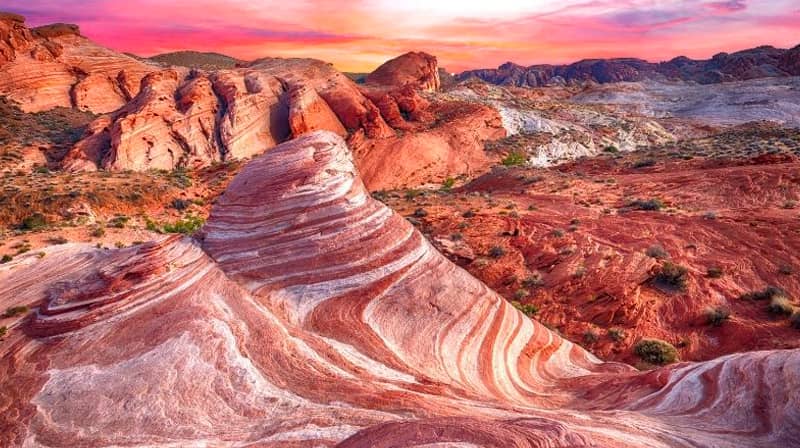 Located just 50 miles northeast of Las Vegas, the Valley of Fire State Park is a must-visit destination. Established in 1935, it is the oldest state park in Nevada. Spanning over 46,000 acres of land, Valley of Fire is a civic amusement and nature preservation area. The park is home to stunning red sandstone rock formations, ancient petroglyphs, and a variety of hiking trails. Some of the hiking trails are easy, while many are challenging.
Some of the most popular attractions in the park include:
Fire Wave: This is a natural rock formation that resembles a wave of fire.
Elephant Rock: This rock formation resembles an elephant's head.
Atlatl Rock: This rock has petroglyphs that are over 4,000 years old.
White Domes: These are a series of white sandstone domes located in the eastern part of the park.
Valley of Fire Tour from Las Vegas
Valley of Fire is just an hour's drive from Las Vegas. There are various ways to reach here. You can rent a limo, take a shuttle bus, or hire a party bus. If you're looking for a more luxurious and convenient way to travel, renting a party bus is the best option.
Party buses are large vehicles that can accommodate up to 50 passengers. They are well-equipped with a variety of amenities, including a music system, LED screen, mini-fridge, disco lights, and plush leather seats. These big buses are perfect for enjoying the trip with friends and family. Also, when you hire these party buses, you don't have to worry about driving or navigating.
Your party bus will pick you up from your hotel in Las Vegas and take you directly to the Valley of Fire State Park. Upon arrival at the park, the driver will help unload your luggage. He will also give you a brief overview of the area. You'll have the freedom to explore the park at your own pace.
Once you finish exploring the park, the bus will take you back to your hotel. It is a great way to explore the Valley of Fire State Park without worrying about transportation or logistics.
Book your Valley of Fire Tour from Las Vegas today!
To book your Valley of Fire Tour from Las Vegas, contact us. We have a variety of luxury party buses to choose from. You can book a party bus for your group at a competitive price.
========================
BOOKING IS OVER A CALL AWAY – 702-861-0006