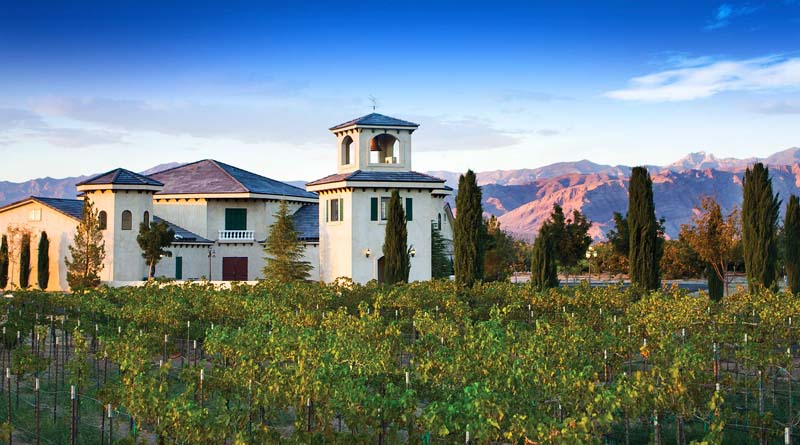 Winner of over 300 national wine awards, Pahrump town near Las Vegas boasts the Pahrump Valley Winery. It is situated in the west of the Sin City at a distance of about 50 miles and takes around an hour to reach the winery. The Pahrump Valley Winery Tour is designed especially for adults, offering FREE wine tasting from 10:30 AM to 5:00 PM for the entire week.
Pahrump Valley Winery Tour
One of the best features of the Pahrump Valley Winery Tour is the tasting of the award-winning wines. You will also enjoy strolling through the peaceful environment offered by the rose garden. Besides wine tasting, here you can wander through the peaceful rose garden with its gazebo encapsulated by the Spring Mountains.
You would also not want to miss dining at the Symphony with your loved ones. It is an upscale casual restaurant serving highly delicious food. You can also visit the well-stocked gift shop to buy the best wines for gifting your friends.
Taking the Pahrump Valley Winery Tour in one of our luxury limousines is another best feature of the tour. Simply book our tour and take pleasure of our door to door pickup and drop service. Sit back and comfortably view the scenic beauty of the picturesque valley with your buddies. We have a staff of licensed and well-trained chauffeurs who will make your drive comfortable and hassle-free.
While touring the Pahrump Valley Winery in one of our limos from Las Vegas, you will also get an opportunity to pass through the Red Rock Canyon and click some of the spectacular photos on the way. You can also arrange for a break at the canyon by paying an additional charge. This extra charge will completely depend on the type of limo you book. Checkout our entire fleet and book a limo now!
========================
BOOKING IS OVER A CALL AWAY – 702-861-0006