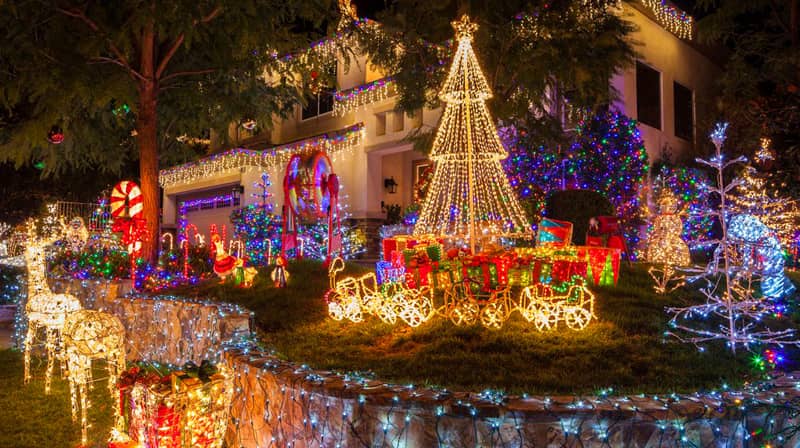 Las Vegas is a popular tourist destination famous for its extravagant nightlife and flashy lights. The city comes alive with an explosion of shimmering lights and festive decorations during Christmas. A Christmas lights tour is a great way to see what Las Vegas offers during the holidays.
Christmas Lights Tour
The Christmas lights tour typically takes 3 hours. The tour stops at some of the most popular light displays in the city, including the Bellagio Fountains & Botanical Gardens, the Fremont Street Experience, and Winter in Venice at The Venetian. You can also visit the Magical Forest at Opportunity Village or the Ethel M Chocolate Factory & Cactus Gardens. The tour is a great way to spend time with friends and family and enjoy the magic of Christmas in Las Vegas.
Christmas Party Bus Rental
Experience the Christmas holiday lights with the comfort of a premium party bus rental in Las Vegas. Book a 3-hour Christmas Lights Tour that allows you to shop and click photos during the stops. At every location, there will be a stoppage of 20 minutes.
Hiring a party bus allows you to drink alcoholic beverages on the go. Bring your favorite bottles and drink as much as you want without worrying about driving, parking, or navigation. The chauffeur of the party bus shall take care of everything. With Crown's party bus rental, rest assured that you will have a safe and enjoyable experience. All our luxury party buses are well-equipped with amenities like plush leather seats, an LED screen, a high-bass music system, a mini-fridge, disco lights, and a restroom.
If you're looking for a fun and festive way to spend Christmas in Las Vegas, a Christmas lights tour is a great option. To book this tour, contact us today!
========================
BOOKING IS OVER A CALL AWAY – 702-861-0006