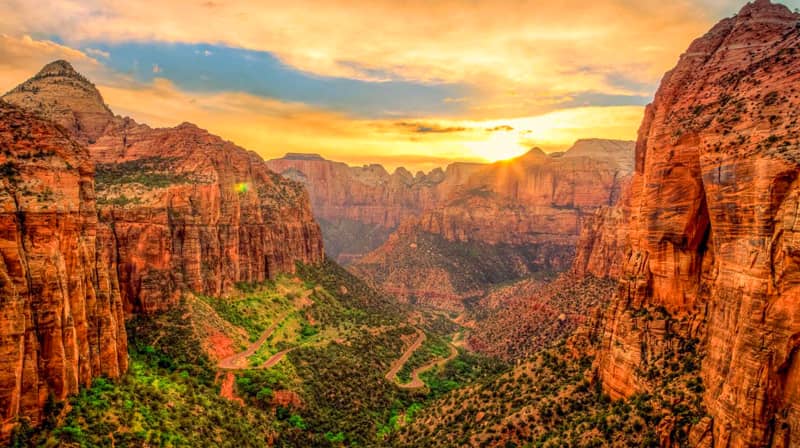 Zion National Park is a must-visit for any nature lover. Located in southwestern Utah, the park is home to towering sandstone cliffs, deep canyons, and a variety of plant and animal life.
Zion National Park
Located 160 miles from Las Vegas, Zion National Park is a beautiful national park attracting millions of visitors. Spread across 230 square miles, the park is famous for its towering waterfalls, incredible hiking trails, forest trails, red cliff formations, narrow slot canyons, quiet meadows, and emerald pools. It is the first national park in the state and a perfect destination to picnic with friends and family.
Some of the key attractions in Zion National Park are:
The Narrows: This is a slot canyon that is only accessible by foot or by wading in the Virgin River. The Narrows is a popular spot for hiking, offering stunning views of the canyon walls.
Angels Landing: This is a challenging hike that rewards hikers with panoramic views of the canyon. This hike is steep and narrow, but it is worth the effort for the mesmerizing views you get.
Zion Canyon Scenic Drive: This is a 16-mile scenic drive that takes you past some of the most popular attractions in the park, including The Narrows, Angels Landing, and the Emerald Pools.
The Emerald Pools: The Emerald Pools is a series of waterfalls. You can reach here with a moderate hike. It is a popular spot for swimming and picnicking.
Watchman Trail: This is an easy hike that offers stunning views. The Watchman Trail is perfect for families and those looking for short hikes.
These are just a few of the many things to see and do in Zion National Park. If you are planning a trip to Las Vegas, do not forget to add a Zion National Park tour to your itinerary.
Zion National Park Tour from Las Vegas
The drive to Zion National Park from Las Vegas typically takes 2.5 to 3 hours. Therefore, you can cover this destination in a day tour. You will also get enough time to explore this nature's heaven.
Crown LV is a party bus rental service offering the Zion National Park Tour from Las Vegas. Contact us today to book your Zion National Park Tour.
========================
BOOKING IS OVER A CALL AWAY – 702-861-0006