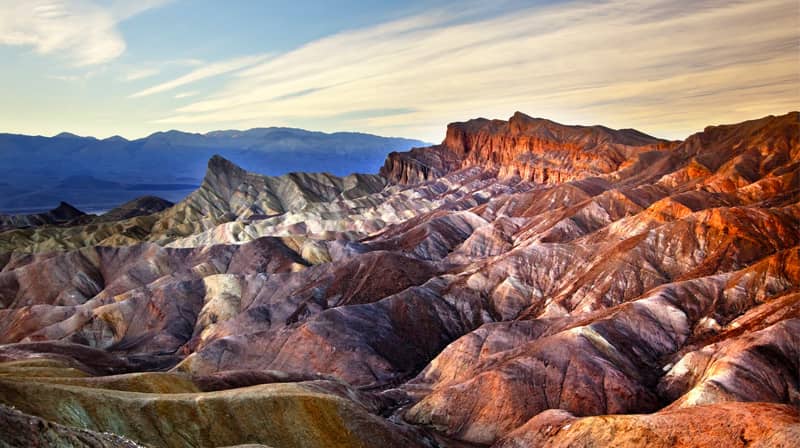 Death Valley National Park is one of the most popular day trips from Las Vegas. Located just 131 miles northwest of Vegas, the park is home to a variety of extreme landscapes, including sand dunes, salt flats, and mountains.
Death Valley National Park
Spanning over 5270 miles of the Mojave desert, Death Valley National Park is the largest national park in the United States. Located on the border of California and Nevada, Death Valley is the hottest, driest, and lowest national park on the North American continent.
The park has astonishing landscapes, including shifting sand dunes, barren salt flats, craters, mysterious sailing stones, rainbow-colored mountains, and canyons.
Some of the major attractions in the park are:
Badwater Basin: This is the lowest point in North America, at 282 feet below sea level.
Zabriskie Point: This viewpoint offers stunning views of the surrounding mountains and valleys.
Dante's View: This viewpoint offers even more stunning views of the park, including Badwater Basin and the Funeral Mountains.
Artist's Palette: This area is known for its colorful rock formations.
The Racetrack: This area is home to mysterious moving rocks.
Summers are extremely hot in the region, with temperatures going beyond 50°C. Therefore, plan your trip to Death Valley National Park during the winter. The park is also ideal for planning picnics with friends or family.
Death Valley National Park is a photographer's paradise that offers otherworldly landscapes and panoramic views. No matter where you go in Death Valley, you'll find a photo opportunity to take your breath away.
Book your Death Valley Tour from Las Vegas today!
If you visit Las Vegas, do not miss out on exploring this mystic place. Book your Death Valley day tour from Las Vegas with Crown LV, a luxury limo service in Las Vegas offering party bus rental for group travels.
Contact us today to book your Death Valley Tour from Las Vegas!
========================
BOOKING IS OVER A CALL AWAY – 702-861-0006