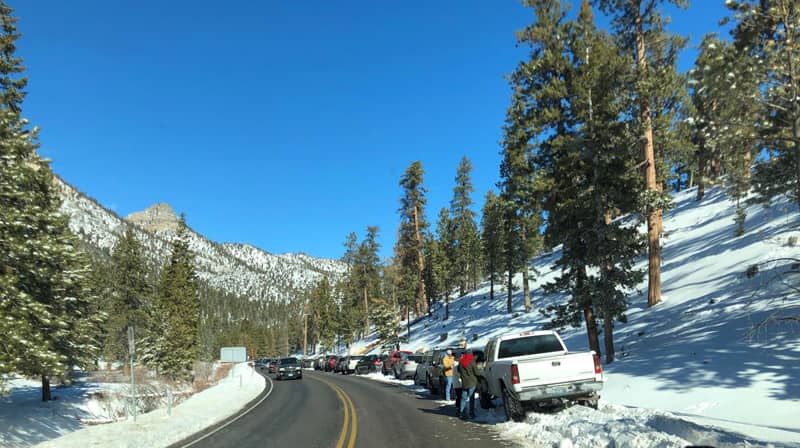 Also called Sky Island, Mount Charleston is a mountain range in the Spring Mountains. Located about 30 miles west of Las Vegas, it is home to several peaks, the highest of which is Charleston Peak, at 11,918 feet.
Mount Charleston Tour
Less than an hour's drive from Las Vegas, Mount Charleston is a perfect destination to plan picnics with friends and family. You can cover the entire tour in a day trip.
Mount Charleston is a popular destination for hiking, camping, fishing, and snow sports. The area is also home to several resorts, including the Mount Charleston Lodge and the Spring Mountain Ranch State Park. A Mount Charleston tour from Las Vegas is a great way to experience the beauty of the mountains. Tours typically take about 6 hours and include round-trip transportation from Las Vegas.
During the trip, you will pass through the Mojave Desert before you reach the Spring Mountain Range. You will fall in love with the slow transformation of the desert setting into a mountain backdrop. This place is no less than a heaven for nature and adventure lovers.
Things to do at Mount Charleston
Relax at Deer Creek Picnic Site
Explore Fletcher View Campgrounds
Hike Echo Trail
Dine at Mt. Charleston Lodge
Visit the caves of Robbers Roost Trail
Spot chipmunks at Cathedral Rock Trail
Trek Big Falls Trail
Go mountain biking at Trail Canyon
Have some family fun at Kyle Canyon Picnic Area
Stay overnight at The Resort on Mount Charleston
Mount Charleston Tours from Las Vegas
If you wish to escape the bustling city life, this day tour is for you. Full of magnificent landscapes, this 6-hour day tour includes just one halt at Mount Charleston Lodge. This 1-hour break helps you stretch your legs, click photos, and walk the grounds.
The entire tour will be in a luxury party bus. The bus will have amenities like plush leather seats, an LED screen, a high-bass music system, a mini-fridge, disco lights, and a restroom.
To book the Mount Charleston Tour, contact us.
========================
BOOKING IS OVER A CALL AWAY – 702-861-0006